As an expert in the field of encrypted voice and data communication, ATGsecure Systems GmbH implements superior solutions at home and abroad. It offers products and solutions for global and international data security, personal integrity and global accessibility that meet the needs of companies, governments, the military, research, the media and the judiciary.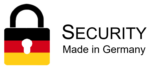 Products & Solutions
Holistic security and uncompromising protection of your communication

and data

!



Protect your data and communications!