... secure data and communication
The highly secure data and communication system alphaXchange manages your data, emails, contacts, dates and tasks on your dedicated server and simultaneously provides a tap-proof connection to your end devices as well as the secure transmission of highly encrypted information.
alphaXchange is a data- and communication system in modular structure with highest standards in the area of server security, the local choice of site of hardware as well as highly encrypted transmission paths to your end devices.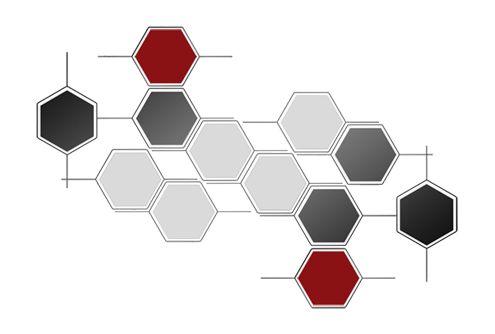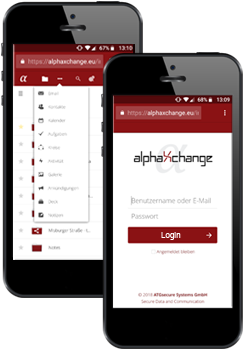 ... optimized for mobile devices
An efficient, modern and easy to use web interface means more productivity for small and large teams, no matter where you are! Less distractions and deep integration into other alphaXchange products increase your workflow!
Provide your teams with data on any platform.
Let them share, collaborate and communicate within and across company boundaries.
In alphaXchange all your files are stored in one central location.
They are easy to find and are securely synchronized on all devices - so you can access them anytime, anywhere.
The tedious search for important files has finally come to an end!
... extremely secure and efficient
Secure
Highly secure IT infrastructure in Germany. Ensure compliance, security and flexibility. You know where your data is located, who has access and how it is used.
Efficient
Managed Server - up to 6 terabytes of storage capacity - up to 10x 2.3 GHz processor.
Global
Access, processing and storing of data worldwide.
Mobile
UI in optimized view - for smartphone, tablet, notebook and desktop PC.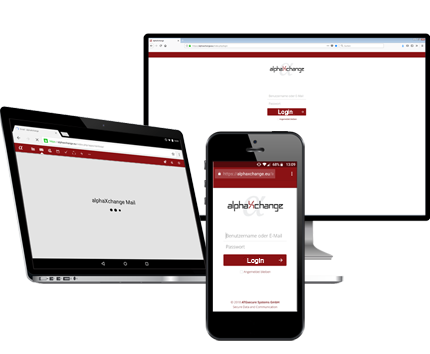 alphaXchange, a combination of extreme data and communication security and efficient operability - secure and flexible!

alphaXchange, your mobile office - worldwide - secure - flexible!
✓
Functions
■ Mail
■ Document processing
■ Calendar
■ Contact management
■ Task management
■ File management
✓
Hardware
Own dedicated managed Server
✓
Accessibility
via all IP-based Networks worldwide
✓
Interfaces
Standard to devices via
■ Web
■ Card DAV
■ Cal DAV
■ Web DAV
■ IMAP
✓
Security
Secure Communication via SSL/TLS 256 bit
✓
Performance
■ High-Speed Internetbackbone
■ CPU Speed up to 10x 2,3 GHz

alphaXchange, developed and designed for use in mobile environments as well as for companies with geographically different locations!
Applications
■ Mail
■ Documents
■ Calendar
■ Contacts
■ Tasks
■ File management
Managed Root Server
■ Linux
■ 100 Mbit Internet Connection
■ Unlimited Traffic
■ Embedding external Domains
■ SSL Certificate
■ Firewall
■ Raid
Server Variants
■ 2 x 2,6 GHz ... 20 x 2,3 GHz CPU
■ 2 GByte ... 128 GByte RAM
■ 500 GByte ... 6000 GByte DISK
Server Basics
■ Cloud
■ Mail
■ https
■ sftp
■ Database
■ DNS
■ ftp
■ http
Optionally
■ SSL Certificate CA
■ IMAP mailboxes
■ CRM System
■ Web Portal
■ CardDAV Client
■ CalDAV Client
■ WebDAV Client
■ IMAP Client
■ Branding
■ Customized


You are interested and need a quote?